At its core, Pat Mattingly, Inc. is a family business that is currently being run by Pat, who turned 79 in September 2020; his daughter Mary Anne Fallis; and his youngest son Jason. Pat's older sons, Jim and Eric, are retired military and have continued with other careers. Jim is a computer systems contractor, and Eric is a pilot for UPS.
According to Jason, the company has survived as a family business because all three have distinct strengths and responsibilities:
Pat still works every day, including driving. He is the overseer and takes time to drive, farm and do the things he enjoys without dealing with the excess pressure of day-to-day operations.
Mary Anne began working in the company when it was still in the growing stages. She is currently in charge of billing and payroll; she is strongest when handling the business's clerical side.
Jason returned to join the family business after completing his degree at the University of Kentucky. He is in charge of dispatch and everyday operations. He spends his days communicating with drivers or customers and bidding on new business.
Getting Started
Trucking was not Pat Mattingly's first career. He spent time in many different jobs during his life. However, it wasn't a complete surprise that he ended up starting a trucking company, either. Pat's dad drove a gas truck, and Pat always liked being around equipment and trucks.
Pat's first career started when he joined the military and served in the army. He was stationed in Colorado, where Pat met his first wife, Judy. After he got out of the service, Pat worked as a lineman. But when his first wife died of cancer, Pat moved back to his hometown, Springfield, Kentucky, with his two children, Jim and Mary Anne. Later, he met and married his second wife, Elaine, a widow whose husband died in Vietnam. She was an elementary school teacher. They had two more children, Eric and Jason.
In Springfield, Pat had different jobs, including one as a DOT officer in the 1960s. That was a stable job with benefits, but Pat was a bit of a gambler. He wanted to try something else. The "something else," at first, was a lumberyard business Pat ran with his sister and a cousin. It turned out to be less profitable than he had hoped. The lumberyard business had a couple of trucks that were used to haul lumber to and from the mill to the yard that Pat used. When the lumberyard business dissolved, Pat used one of these trucks to go out on his next journey.
That was in 1972. Pat hauled miscellaneous goods and eventually leased to Ligon; he later went out on his own and hauled livestock for various cattle companies. Pat incorporated his trucking business two years later, in 1974. He had 2-4 trucks at the time. When Jason was in high school and college, Pat went to the bank and borrowed money to buy 10 cattle trailers to haul for a cattle company out of Lexington. He used leased trucks and his trucks to haul as many loads of cattle as he could. Jason remembers his dad paying off those trailers. "From a business standpoint, Dad always paid his debts. As a young kid, that stuck with me," Jason said.
Those were difficult years financially. Pat relied on Elaine's income to stay afloat and keep food on the table, but he hasn't borrowed to buy equipment since then.
How Jason Got Involved
Jason did not initially plan to join the family business. When he graduated from high school in 2000, he thought it was a good idea to get a degree and then decide what to do next. Jason had aspirations of being a lawyer. What he didn't like was the thought of additional years of school. Shortly before Jason finished school, Pat began to have heart trouble. Jason offered to leave school immediately to help, but his dad insisted that he finish his university education.
Jason also began to realize that the family business made sense for him. At the time, he was dating his high school sweetheart, Amanda, who he later married. Joining the family business was a logical step. "Home means something to me. Being able to work where I grew up means something to me. I grew up watching Dad work hard. He would never tell a customer, "No." I was changing tires and oil in trucks at 12." He committed to being part of the family business on a long-term basis.
When Jason joined the business, Pat insisted that Jason start by driving because he wanted Jason to understand the company better. Jason learned that trucking involves working with many different personalities, including customers who expect the world and drivers who need to be kept happy. After gaining the initial experience he needed, Jason moved to the office and gradually took on more business responsibilities.
Working with his dad and his sister made the transition easier for Jason. He said, "When I first came back, working next to Mary Anne, I learned that the amount of paperwork, even for a small business, is astronomical. Being able to learn from her and dad softened the process."
It hasn't always been easy. Even though Jason was Pat's son, he was still coming in as the new guy. There was definitely a transition period. Sometimes they still have difficult conversations, disagreements and arguments as they try to make the business better. But despite disagreements, all three have a good family relationship. "Above everything else, we are family," Jason said. Part of the secret behind that is having different responsibilities and giving each other space to work. They have the same goal but focus on their strengths as individuals.
The Benefit of Being a Small, Debt-Free Business
The company is a hands-on business that has grown from 2-4 trucks to 30 trucks. They have hauled for large and small companies, moving everything from auto parts and grain to race cars. Being diverse with their customer base has helped to grow the business.
The strength of a family business is the fact that it is small. There is a personal touch. When a customer calls, they will talk to one of three people who have extensive knowledge of the operation. Most of the drivers live within 20 miles of their central location in Springfield. That is something larger companies sometimes can't offer.
Being financially stable has made the company very flexible. Having no debt was a blessing when COVID-19 shut everything down. Jason says, "Our costs are strictly operational. If I had had truck payments or trailer payments, I can't imagine having that hanging over our head." After COVID-19 hit, manufacturing plants went into shutdown mode, and Pat Mattingly, Inc. almost came to a standstill. Jason said, "We had 25 trucks at the time and dropped down to 12. I had to lay a bunch of people off. We were fortunate, though. We still had some trickle-in business. We were diverse, and our eggs weren't all in one basket. Livestock and fertilizer still needed hauling, so we weren't totally shut down".
Pat had many opportunities with the business that would've caused him to gamble while going into debt. The problem was, taking on more debt could have gotten the company in trouble. "One thing I've learned about the trucking business," said Jason. "Yes, you have contracts, but when it gets right down to it, if a customer discontinues something, or if anything changes, you have to be ready for the unknown. Business is ever-changing. You think you've got everything figured out, but the next day, it's a roller coaster."
Jason continued, "You try to do your job to the best of your ability, but in business, you are only as good as your weakest link. From a business standpoint, we try to treat everybody well. Making everyone happy is a very difficult thing, but we do our best. I've realized it is different when your family name is on the truck. You have more pride in what you are doing because "Mattingly" is across the door.

Looking to the Future
Jason thinks automated trucking will probably arrive at some point. He said, "In business, you are always trying to make something better and more efficient. When elogs were first mandated, they were a hindrance from a small-business standpoint because we didn't have the resources that larger companies have. They made our job harder on the support side. Things have changed over the years. For years the only way to communicate was with cell phones, text messaging wasn't huge, and it took a phone call to find out where a driver was. Now we can look at our computer, see our elog system, and see our drivers' exact location. It shows us everything except the color of their shirt." He added, "You ride the wave of the economy and technology. The military flies drones now. Who is to say we won't have automated trucks operated from a desk? Never say never. Large companies shape the way small companies have to compete. If a large company finds a way to do something cheaper, the new approach dictates the freight market for all of us."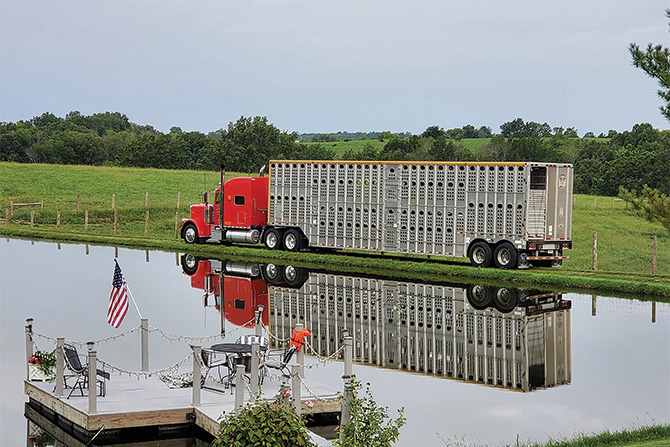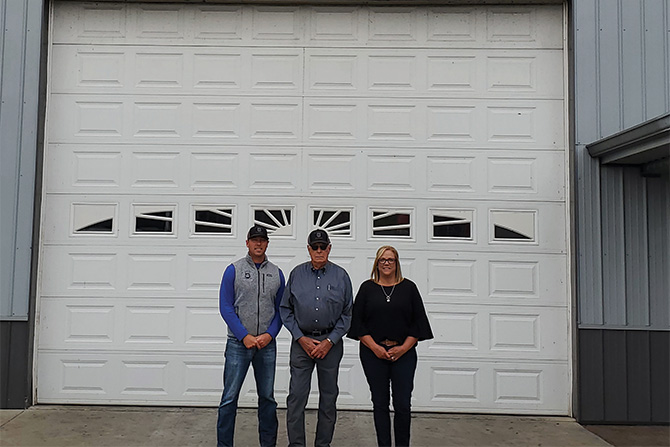 Appreciating the Present
Another family member working in the business is Pat's nephew, Glenn Harmon, who works in the shop. Trusting their employees to get things done is a huge asset to Pat Mattingly, Inc. "I can't say enough about our team members, from top to bottom. From drivers, to support people, it takes all those men and women who sacrifice time away from their family to make our business successful," Jason said.
Pat Mattingly, Inc. is a trucking company with a good central location. Jason feels fortunate to live in an area with so much industry. On a regional level, it hauls in a Midwest corridor bounded by Virginia, Michigan, Mississippi, the Dakotas and Colorado. Most hauling is within a 500-mile radius, especially with the van and flatbed freight.
Jason is especially glad that Pat is still able to work. "I'm very thankful that his health still allows him to work every day," said Jason. "He doesn't sit well. He doesn't have to work, but he is doing exactly what he wants to do. Maybe he works harder than his children think he should, but he wouldn't have it any other way, and we wouldn't either."