Phil Brown started his insurance agency in 1988. The new business focused on association plans because Phil had previously worked at Blue Cross & Blue Shield of Kentucky as manager of association markets. 
Phil's son Scott started working for the agency in 1999. Scott thought the job would be temporary at first, but he liked the work and decided to stay. At the time, many of the local agencies were family-owned, but they didn't necessarily have a succession plan in place that would allow company leadership to hand off control to the next generation. That opened the door for banks, private equity firms, and other national agencies to buy up most of the smaller agencies. 
There were some offers to buy Phil Brown Insurance, too, but as Phil and Scott began to talk seriously about a transition plan for the company, they decided they wanted to keep control of the company so it could continue to be client-centric and provide them with meaningful work. That is the reason why Phil Brown Insurance is one of the few insurance agencies left in Kentucky under family control. 
Scott replaced Phil as president on Jan. 1, 2019, and the company is continuing to operate independently. However, Phil is still active in the business and continues to work full time.  
The company has always done well because of loyalty: Phil and Scott have always taken good care of the staff, the staff has taken good care of its clients, and in response, the trade associations gave the business their support, too. As a result, Phil Brown Insurance has a high retention rate with its employees and its clients.  
The company has also done well by using technology when it makes sense to streamline processes such as enrollment. By moving away from paper and using one system instead of multiple systems, Phil Brown Insurance can get large companies enrolled conveniently and efficiently. Also, the company offers a dashboard to its clients so they can monitor compliance in one space and prevent potential problems.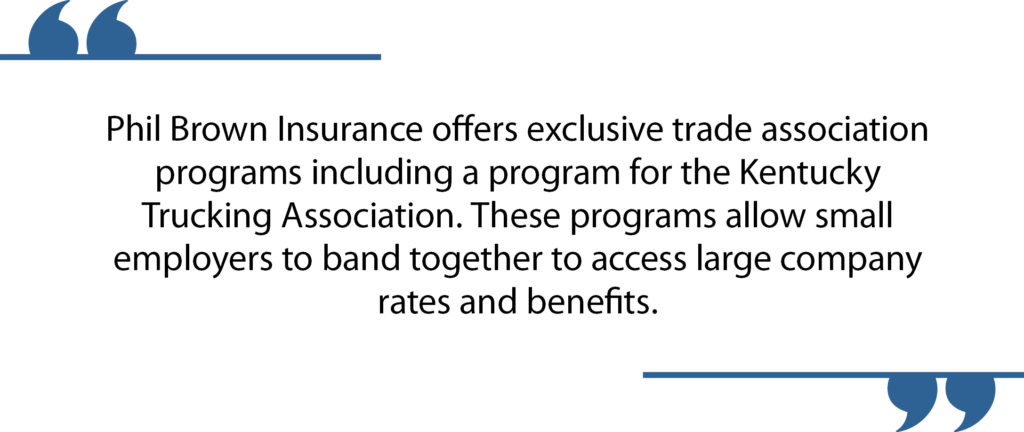 Phil Brown Insurance offers exclusive trade association programs including a program for the Kentucky Trucking Association. These programs allow small employers to band together to access large company rates and benefits. 
The agency can cater to all company sizes and has provided self-insured programs for companies that are large enough to support that. It actively finds and supports viable programs and then brings those programs to its clients. Some clients embrace these programs, and some do not, but all clients can rely on the research that has been done as the insurance industry continues on its path toward major changes in the U.S. market. 
Phil Brown Insurance offers an online HR library and training videos. The HR library is located on a single hub and can be used within the company and by clients. The training videos are available to help train supervisors and employees. 
Phil Brown Insurance also has an attorney firm on retainer so it can go to this firm with questions about specific situations. This business relationship has been a critically important resource as the company has dealt with the rules and regulations of the Affordable Care Act because it has meant the company could give much-needed professional advice to its clients about compliance. Some clients have even come on board specifically because of the agency's compliance expertise. 
The company's wellness solutions provide clients with a way to bring down health care costs through prevention. Each program depends on the client's goals and carrier. Since the client base is highly diverse, some want a program, and some do not, depending on each organization's culture. 
Despite automation, Phil Brown Insurance has worked hard to keep its services personal. It has done this by not pushing people in directions they don't want to go. If a company wants to provide open enrollment for employees, Phil Brown Insurance can handle the entire process through video presentations and online enrollment. However, most companies want to supplement automated processes with something more personal. Phil Brown Insurance can accommodate whatever makes the most sense for each client.