Would you please tell us about your family?
Lesha: My parents, Tommy and Phyllis Rogers, started the company. My father passed away in 1999, and my mother in June. I have three siblings, and we are all very close as a family. My youngest sibling, Carla, works in the business. The third generation is now part of the operation; that is, my children Kristeena and Charles. My daughter-in-law, Kate, is our accountant. My husband, Glenn, has been a key asset to work alongside me. My father brought him into the company, so he is very knowledgeable in all aspects of the business. My Aunt Marsha has been here from the beginning, and she is still the glue helping to hold all of us together.
I was 33 when I was placed in the leadership role after my father passed away. My mother, though still alive, wasn't active in daily operations. After the recent passing of my mother, I became the primary owner. I have worked alongside aunts, uncles, cousins, and others who have become family, so it truly is a family business.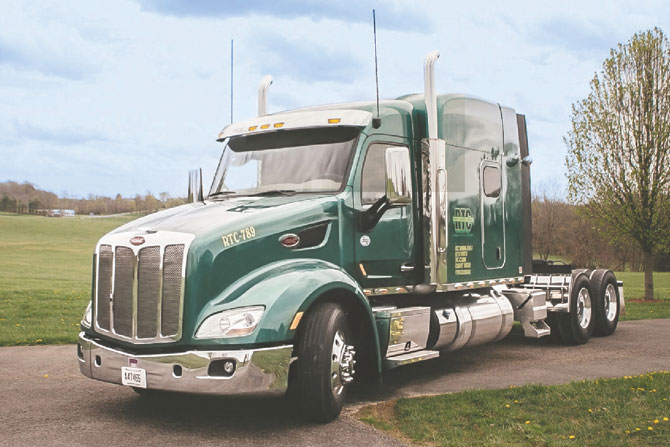 The company website had information about Charles Tommy Rogers and his legacy of determination and self-reliance. He sounds like a remarkable man. What was the most important business lesson he taught you?
Lesha: He was my father. There are many valuable lessons I could take from him. One of the most valuable lessons he taught me was to treat people the way you want to be treated and to be fair and honest.
Another lesson was determination. My parents had very humble beginnings in the industry. I remember the tough times when they weren't sure how payroll would be made or where they would get the fuel money. My father would talk about not having money for food on the road. He had a vision of owning a fleet of trucks, and nothing was getting in the way. He was determined to succeed in building something that he loved.
Kristeena: I was only 9 when my grandfather, Tommy, passed away, but I have a host of memories of him as my grandpa more than just a businessman. As I have gotten older, I reflect on things he did to teach me early on. When I was about 7, I wanted a dog. He gave me a job to make money for the dog, so I cleaned his office. At the end, he handed me money and took me to get the dog. Of course, $500 was a little steep for a 7-year-old to clean his office, but the moral is you have to work for what you want in life. He would take my brother Charles and me with him to meet business people or take us to events from a very early age. He wasn't just spending time with his grandkids, he was making introductions and grooming us from a very early age.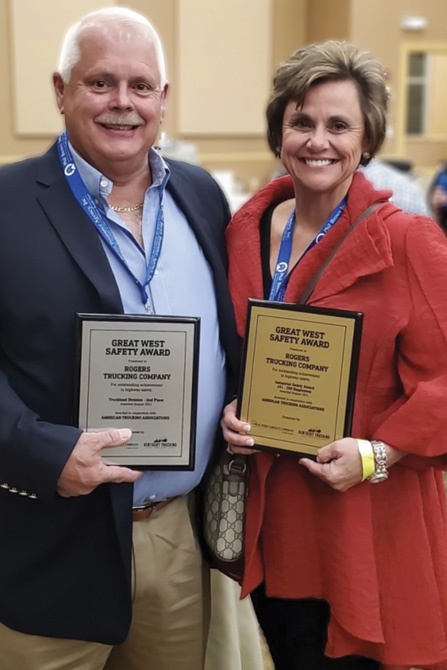 The website also lists three women: Phyllis Rogers, Lesha Breeding and Marsha VanArsdale. Would you please tell us a little more about these women?
Kristeena: Phyllis Rogers is my grandmother. She started the company with my grandfather Tommy. She was a tough, very blunt, super smart and loyal woman. She was no longer an active participant in day-to-day operations after I joined, but she stayed very informed. She lived right across from the business, so she watched every move from her large window. We gave her updates often on how things were going. With her being my grandmother, I was blessed to know a lot about past operations in RTC.
Lesha is my mother. I have been blessed with her not only as my mother but a true idol when it comes to being a businesswoman. My brother and I joke and say we lived at the office growing up. We know firsthand what she has sacrificed to keep her father's dream alive.
Marsha is my great aunt. She has been a key player for over 40 years, and she knows the ins and outs of the industry. If a question is asked in the office, many times the answer has been, "Ask Marsha." I am very blessed to be able to work alongside her and continue to learn.
What is your educational background?
Lesha: I have some college, but at the time, being an active participant in the business prevailed. Education is very important to me. It was a requirement for both Charles and Kristeena to be employed at RTC. Charles received an economics degree from the University of Kentucky.
Kristeena: I have a B.S. in financial economics from Centre College and an MBA from the University of Louisville.
How did Rogers Trucking Inc. get started in 1965?
Lesha: My dad always talked about being a little boy, seeing semis pass and saying, "I will own those." The beginning wasn't quite that easy, though. He had to quit school in eighth grade and start logging with his father. Life threw lots of curveballs, but he became a truck driver and hauled commodities. He started buying trucks along the way. He drove and worked on them while my mother dispatched. The company hauled various commodities, with tobacco being a key player in the early stages. The buying of one B Model Mack led to the start of RTC.
Are there specific individuals who had a major impact on your career?
Kristeena: My parents. They have given me countless opportunities that have influenced my career. Also, just being able to grow up with people who know so much about the industry that I can learn from daily.
There are people on the RTC team that have been here a majority of my life, so being surrounded by those people that know more than I ever will is priceless.
Lesha: This is not a one-person show, so there are many people who have impacted me. First, my parents, aunts, uncles, and a strong team of drivers and employees have helped me.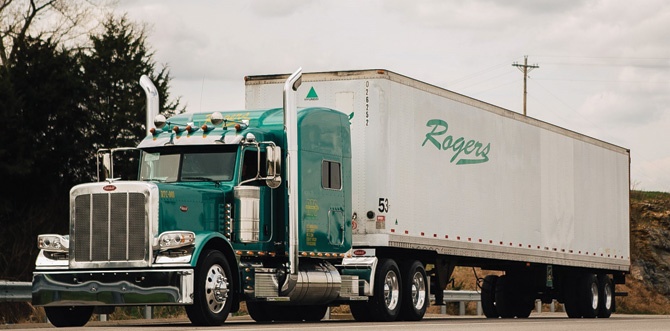 What is the most rewarding part of your career for each of you?
Lesha: Relationships and friendships are important to me. The most rewarding part of my career is making a difference in other people's lives.
Kristeena: My brother Charles and I, as part of the third generation, can affect the lives of hundreds of people, both teammates and families. We both have a vision for the company to grow but grow with a purpose. To be a part of something that is a family legacy that can impact the lives of others makes it all worthwhile.
Your motto is, "Everyone is someone." What's the story behind that?
Lesha: My father always said, "Everybody is somebody, no matter your role in life." Frequently, he would remind me to be nice going up the ladder, but who knows, you may meet the same ones coming down! RESPECT!! EVERYONE!!
Your customer service pledge is, "On Time, All the Time." Why that specific pledge?
Lesha: Nothing's perfect, but that's the goal. People want their freight on time, and service is all we have to sell.
Rogers Trucking is certified as a Women's Business Enterprise by the Women's Business Enterprise National Council (WBENC). Why is diversity important in the trucking industry?
Kristeena: We became members shortly after I joined the company. I saw the need for the company to be part of a bigger movement.
It's important for everyone to realize you don't have to fit a mold to be in an industry. Diversity drives innovation, and at RTC, that is what we want to see. If we employ people of different ages, genders and personalities, the company becomes more innovative and can contribute more to society.
How has the pandemic affected Rogers Trucking?
Kristeena: Just like every company, we've put precautions in play to protect our drivers' and customers' safety. Their health and well-being have been most important too. We have been affected when multiple drivers have been quarantined at the same time; it has caused issues in shipping. On the mechanical side, Glenn hasn't been able to get new trucks, trailers or parts.
Lesha: It is hard to get anything right now. Like everyone is seeing, the backorders on equipment have caused issues. Most importantly, we worry about the health and well-being of our teammates.
What is the biggest impact of being a KTA member? What makes it beneficial?
Kristeena: Being a member has allowed me to network with knowledgeable people within the industry. The more you network and the more you are out there, the more opportunities you have. Also, just surround yourself with like-minded people and make friends who will last for years.
If you look back at your professional life, what would be three things you have learned that you would pass on to someone looking at trucking as a career?
Lesha: My first role in life was being a mother. Trucking came second. My earliest memories are always of a truck being involved.
Trust your instincts. Accept change and grow with the times.
Do what you love. It's true that if you do, you will never work a day in your life.
Work hard. Be kind and respectful.
Kristeena: I feel I am a little green to give much advice, but this is what I would say at this point in my life:
The industry has been going through constant change ever since I started working in it, especially with technology, so always stay in the know.
Surround yourself with people who make you better and sharper. You will never gain anything if you are always in your comfort zone.
Have a vision for where you are going. It is easy to get caught up in the rat race and lose sight. Dream big, and teammates will follow if they know where they are going. If you don't have a vision and a path of direction, you will often find yourself at a standstill.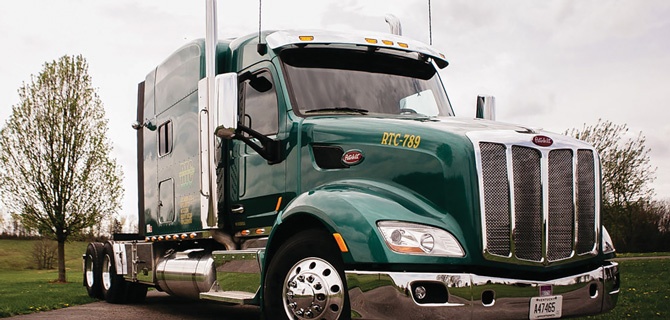 What are some professional moments that make you proudest?
Lesha: I spent a lot of my early years crawling into a truck with my dad. As a child, I begged to ride with him. I always wanted to ride and drive. We had older trucks, and they were not nice. But not too long ago, I went on a drive with my son in a new truck. He has his CDL, and the truck was air-conditioned and comfortable. We had come a long way, and I was overjoyed to be with my son in a brand-new truck. My heart overflows watching my children engaged in operations with so much love and passion for the industry.
Was there an "aha" moment in your career that defined you?
Lesha: On a personal level, my father's funeral — I realized in business that he had touched the lives of many. Secretly. He took resources from his business and blessed many. I knew the sacrifices, but I didn't realize just how much my parents had sacrificed to help others. "Rogers" was bigger than I imagined. I quickly realized I had big shoes to fill. I am working to keep their dreams and legacy alive while at the same time remaining humble.
Kristeena: We are a close business family and have many strong teammates working on our team. We may know their jobs mean a lot to them, but it's more than that for some of them. We don't always realize that they have given their lives to "Rogers" because they love the company as much as we do.
One of our drivers had a fatal heart attack while parked in his truck. He had been with us for 20 years. My brother Charles and I had an eye-opening experience at his funeral. We saw Rogers items everywhere. The family asked us to lead the funeral procession in his semi. This was the moment that I realized we had a good thing at "Rogers," and I wanted to make decisions in the future to make it an even better thing. It was a great feeling knowing that my brother and I were part of something bigger than just a place to work.
Do you have any last words?
Lesha: God, Family, Friends and Business.
"Rogers" is a multitude of families coming together, uniting as one! I am grateful and respectful to each one of our teammates and their families. Lots of sacrifices are made when a parent or spouse is gone all week. Thank you to those who help me keep our dream alive. I hope I never wake up. As my Daddy would say, "Keep on Trucking."
Kristeena: As "Rogers" experiences changes and growth, like I said earlier in the interview, it is being done with vision and purpose. As part of the third generation, I do have dreams to take my grandparents' legacy to another level. At that next level, I can reach even more people and be part of an even bigger change. My grandparents set a culture at RTC from the beginning, and my mother has carried on. I want to keep that same "Rogers" culture no matter the size of RTC. Rogers Trucking isn't just a business. It's a family of people all working for a greater cause.