How did you become part of the crane industry? 
I worked in the import/export business at the Port of Savannah in 1982 and then for a customs broker in Atlanta, Georgia, shipping heavy equipment from 1983 to 1989.
In 1989, Link-Belt Cranes was looking for an international transportation coordinator. I applied for the job and have been here for 32 years.  
What is Link-Belt Cranes' connection to the trucking industry? 
We manufacture several crane models that require heavy haul trucking to move them from point A to point B, and we manufacture flatbeds and step decks for secondary loads. We also coordinate inbound shipping at port (both East Coast and West Coast) and with outside parts vendors. Link-Belt Cranes' use of open equipment runs the whole gamut:
Flats
Steps
Double drops
Heavy-haul trailers (beam trailers, California legal and long well)
How did Link-Belt become a market leader?
By focusing on continuous improvement and employee empowerment, Link-Belt has emerged as a dynamic and highly focused market leader in crane design and product quality standards. Link-Belt's core production base and center for worldwide operations is its 800,000 square feet manufacturing facility in Lexington, Kentucky. 
What are Link-Belt Cranes' expansion plans? 
Expansion at our 104-acre facility is ongoing, but some of the major changes we have seen in the last several years include: 
A new 30,000 square-foot training and quality assurance building in 2016
A new 35,000 square-foot shipping pad for crane shipments in 2019
A new 60,000 square-foot parts distribution center addition for parts storage in 2021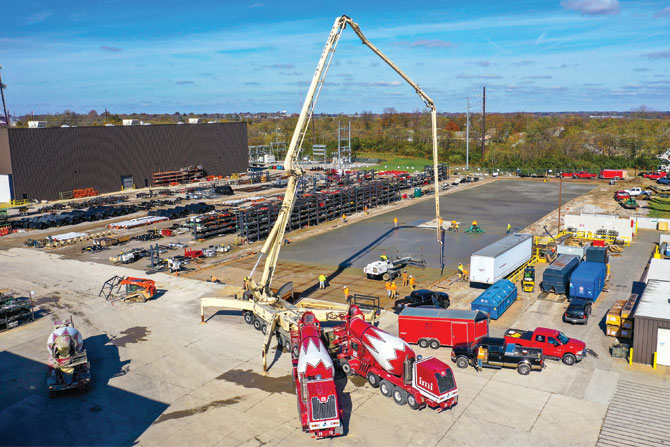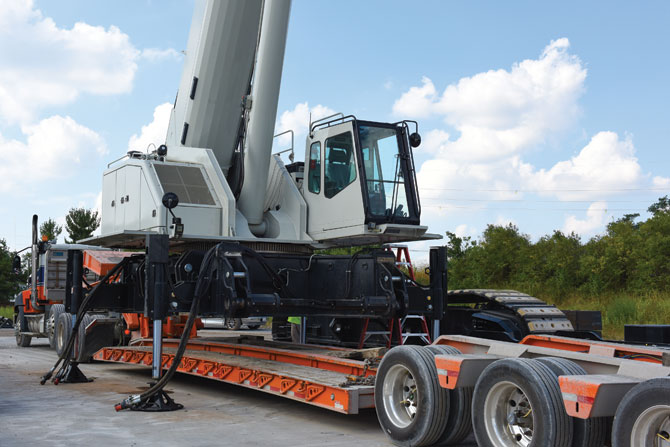 How did the pandemic affect the company? 
Since Link-Belt is considered an essential manufacturer, we have not closed. We're following personal hygiene precautions as recommended by the CDC. We have shifted our production and office schedules, and we have restrictions on visitors. Also, we did the following: 
Canceled all nonessential travel
Eliminated large meetings
Managed smaller meetings for social distancing
Extended break times for handwashing
Increased the amount of hand sanitizer stations around the plant
Added cleaning staff 
Discontinued buffet-style food service in our cafeteria to include only to-go food purchases 
We are doing everything we can to protect our team while providing our customers with the support they expect. Like everyone else, we continue to monitor the ever-changing circumstances and make adjustments.
Describe your educational background.
I am a high school graduate, and my whole career has been based on all modes of transportation. I have had on-the-job training at every stop along the way. 
Are there any specific individuals who had a major impact on your career? 
The gentleman who hired me, Mr. Tom Bretz, was the transportation manager and second person Link-Belt hired when they relocated the plant from Cedar Rapids, Iowa, to Lexington, Kentucky, in 1975. I worked for him for 13 years. During that time, he mentored me and helped me develop a greater understanding of the crane and transportation industry. 
What is the most rewarding part of your career? 
I've lived here in Central Kentucky my whole career, and I've accomplished a lot over the years with the growth of the company and the company name. 
Every employee is valued. That's been a plus for me. A lot of companies think transportation is a necessary evil. Link-Belt values what employees do and respects what we bring to the table. I'm proud of the product. Shipping a crane is a pretty unique thing to see moving down the road, so I take a lot of pride and ownership in that. 
What is the biggest impact of being a KTA member? What makes it beneficial? 
Well, the biggest impact is being able to go to KTA when you have situations with various DOT permitting issues and that kind of thing. KTA is a voice for us when we get into situations where we need help.
KTA also lobbies in certain areas that make improvements in transportation in the Commonwealth of Kentucky. They have contacts with the DOT and those who are involved in the political process.
If you look back at your professional life, what would be three things you have learned and would pass on to a young member who is looking at the crane industry as a career? 
Always be willing to learn. You are never too young or too old to learn anything. 
You have to be upfront and honest in what you do. You cannot ignore a problem in the transportation industry. You have to be straight up about what you are doing. 
You have to build relationships in the crane industry and the transportation industry. We value relationships with distributors, customers, and vendors that provide trucks or make parts. If we work together and develop friendships, it makes it a lot easier to conduct business. One of the lost arts is talking to people. 
What are some professional moments that make you the proudest? 
We have a large formed boom press on-site for making telescopic boom shells, and it was going to be down for a few months for some maintenance repairs. In order to not miss a beat with our production schedule, it was decided we would produce enough boom shells that would have otherwise been produced during the downtime of the press. This decision meant storing the boom shells somewhere, on-site. We figured out a method for storing them in our parts distribution center. It was an outside-of-the-box solution, but one I will always be proud of being involved in. 
I am also proud of my work at CONEXPO-CON/AGG (CONEXPO), North America's largest construction trade show representing all things construction. CONEXPO is held every three years, and every major crane manufacturer has models on display for the show. I have represented Link-Belt Cranes five times for the show. The first four times I worked the show, I was in Las Vegas for a month. I enjoy the challenge, especially moving multiple machines in and out of the booth for the show while all the other crane manufacturers are doing the same. It's a lot of coordination, it takes a lot of work and can be very stressful, but it's also very rewarding, especially when the show begins, and you know how big a part you played. You make relationships along the way, and that's what makes the work easier. 
Was there an "aha" moment in your career that defined you? 
When Mr. Bretz retired 19 years ago in 2002, I had a role as a supervisor. I was selected to take his spot as the transportation manager. That let me know I had arrived here.